What Products and Methods Do Today's Hotels and Apartment Buildings Use for Bedbugs?
In an age where grocery shoppers go out of their way to buy organic produce grown without chemical pesticides, it's not surprising that hotels and municipalities across the country are switching to organic pest control methods. The organic movement has exploded so quickly that we've moved from a 2,000 square foot warehouse to a 4,000 square foot facility to serve your needs.
By using your own maintenance staff to apply our organic formula, you can save 30 to 50% on the annual cost of hiring a pest control firm! Best of all, our natural product neutralizes bedbugs quickly. Click here to see footage of what happens to fleas and bedbugs that breath our formula. Even bedbugs that don't come in contact with our formula will suffer the consequences of treatment. Our product repels insects from sprayed territory and dissolves eggs up to 17 days after application!
What Makes Our Product Superior?

In tests ordered by the U.S. Department of Agriculture, researchers at Iowa State University tested our product against 29 other natural and chemical formulas and ranked it number one.

Hotels and housing authorities across the country use our organic formula against bedbugs because these hearty parasites have an uncanny ability to develop immunity to chemical pesticides.
Independent studies at Rutgers University demonstrate that our product can keep killing bedbug eggs up to 17 days after application. Read more…
Unlike many pesticide products which simply kill on contact, our formula kills instantly AND leaves a protective barrier that discourages new insects from entering sprayed territory for up to a month.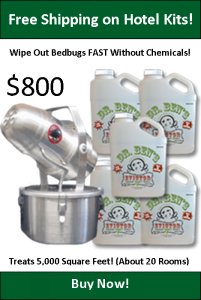 The following testimonial was written by the owner of a pest control firm with approximately 3,000 accounts in Florida.
Testimonial

To whom it may concern,

I am the President and Certified Operator of a State of Florida, Licensed Pest Control Company and have been in the business for over 20 years. I saw the need for an "All Natural" product to use for the many Bedbug problems we are having in Florida.

There has been a lot of negative publicity about the use of pesticides, especially on and around beds and bedding areas. I began testing the Cedar Oil Industry products about 6 months ago, mainly for Bedbug infestations. I simply followed the directions: 1) spray the Cedar Oil product on all main Bedbug harborage areas and 2) fog the room thoroughly with the Cedar Oil product, using the Thermal Fogging machine and close the room for 6 hours. I then perform the same treatment as a follow-up treatment in 10-14 days. I give a 60 day guarantee, with unlimited re-treatments if needed. Fortunately, I have never had to perform a 3rd treatment. This program has worked every time.

I have had such tremendous success with this program that I now offer this program "exclusively" for all our Bedbug infestations. Since Bedbugs are probably the toughest "Biting Insect" to eliminate, and due to our success using the Cedar Oil products, I am also using the same basic program for all "Biting Insects" such as Fleas, Ticks and Mites. I am now using the Cedar Oil products for exterior Perimeter Pest Control treatments and testing it on Lawns and Landscape plants. I am thrilled with the success we are having and I am working on a complete inside and outside "All Natural Cedar Oil Program" to offer my Customers.

Please let me know if there are any other questions.

Thank you,

Jim Maler
President

All Florida Pest Control
Your Safety is Important to Us!

Our pesticides are 100% organic and approved by NOP and other certification agencies. Our product line has earned the USDA Certified Biobased Product Label for its PCO Choice. As with any pesticide, chemical or natural, our topical formulas should not be ingested by humans or animals. Direct eye contact should be avoided. A mask should be worn when using ANY type of fogging solution for pest control purposes, including organic fog solutions. Prior to fogging, humans and animals should be removed from the home, pilot lights should be turned off and smoke alarms should be disabled. Occupants may return in 4 to 5 hours. Do not spray cedar oil (or any other type of pesticide) into flames or electrical outlets. Should our customers, affiliates or retailers use our products or advise others to use our products without reading instructions, Cedar Oil Solutions will not be held responsible for medical consequences or property damage. Cats treated with cedar oil for fleas should wear Elizabethan cones to prevent them from licking and grooming their fur during treatment. E-cones are widely available at pet stores to prevent cats from licking wounds and surgical incisions. In rare cases, ingestion of this product may cause lethargy or vomiting in cats. The same is true of ANY flea product or shampoo, be it chemical or natural.