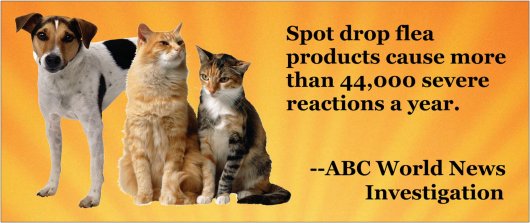 Are Chemical And Spot Drop Flea
Treatments Dangerous To Pets?
What Is The Best Flea Product
For Cats & Dogs?
Products intended to treat cats and dogs for fleas and ticks kill hundreds of pets each year and injure tens of thousands, said the Environmental Protection Agency in a March 2010 statement. In a seprate investigation conducted by ABC World News, traditional spot drop flea and tick medicines were found to cause more than 44,000 severe reactions in a single year, including seizures and 1,200 deaths.
There is no such thing as chemical flea "prevention" on an animal. Fleas are killed when they bite pets for a blood meal. They die from the toxins systemically wicked into and carried in the animal's bloodstream.
Due to widespread controversy over traditional flea and tick control methods, cedar oil insecticides have gained increasing popularity and respect in the veterinary and organic farming communities.
Our Formula Works in Many Ways:
Can be used as a direct hit spray to destroy fleas, ticks and mites on dogs and furniture
Erodes the exoskeleton of insects that crawl through treated areas, contributing to early demise
Dissolves eggs on contact, but not by proximity. (Eggs must come in direct contact with the formula, not just the vapors.)
Repels a wide variety of insects and discourages new insects from moving into treated territory
Dr. Ben's Paws & Claws
Flea & Tick Treatment One-32 ounce bottle: $34.95 +$10.00 S&H

A handy size for the quick treatment of pets, bedding, couches, carpets and more. Enough to treat one average-sized room (250 square feet). Kills fleas, ticks, lice and all types of mites on contact. Great for fungal skin infections and deep root ear canal infections in animals. A very small amount goes a long way. Go ahead and stock up. This product doesn't expire, and it's endorsed by Animal Wellness Magazine. Save $5.79 per bottle with the purchase of a case of six bottles.
Since most parasite problems originate in the yard, the most effective treatment plans blend indoor and outdoor protection methods. Our yard concentrate is designed to compliment indoor treatment programs by wiping out parasites BEFORE they make their way into the home. Vet appointments and medications are EXPENSIVE. Why not repel mosquitoes that bite your pets BEFORE heart worm is transferred? Why not wipe out ticks that spread Lyme Disease and fleas that could potentially invade indoor living spaces? An ounce of prevention is worth a pound of cure, and you'll love the added benefit of controlling venomous snakes and insects that destroy crops and gardens.
Outdoor treatments result in a dramatic reduction in insect populations across the board, including mosquitoes, fleas, ticks, lice, mites, chiggers and various crop pests. Cedar oil will not contaminate ground water or pollute the environment.
Indoor cedar oil fogging techniques are particularly effective in the control of fleas, bedbugs, ants, mites and cockroaches. The dry, hazy mist reaches behind walls and penetrates unseen cracks and crevices in a way that traditional spraying methods can't duplicate. Fogging machines are exceptionally useful to those who live in apartment buildings where repeat infestations are common. The amount of money saved on repeat visits from exterminators can be astronomical.
STILL USING ANY TYPE OF PYRETHUM OR PEREMETHRINS?

According to an E.P.A. survey of poison control centers, these substances cause more insecticide poisoning incidents than any other type of pesticides except for organophosphates. Permethrin is a synthetic pyrethrin (C21H20Cl2O3). In other words, it is a man-made poison that is a copy of two poisons found in plants.
Your Safety is Important to Us!

Our pesticides are 100% organic and approved by NOP and other certification agencies. Our product line has earned the USDA Certified Biobased Product Label for its PCO Choice. As with any pesticide, chemical or natural, our topical formulas should not be ingested by humans or animals. Direct eye contact should be avoided. A mask should be worn when using ANY type of fogging solution for pest control purposes, including organic fog solutions. Prior to fogging, humans and animals should be removed from the home, pilot lights should be turned off and smoke alarms should be disabled. Occupants may return in 4 to 5 hours. Do not spray cedar oil (or any other type of pesticide) into flames or electrical outlets. Should our customers, affiliates or retailers use our products or advise others to use our products without reading instructions, Cedar Oil Solutions will not be held responsible for medical consequences or property damage. Cats treated with cedar oil for fleas should wear Elizabethan cones to prevent them from licking and grooming their fur during treatment. E-cones are widely available at pet stores to prevent cats from licking wounds and surgical incisions. In rare cases, ingestion of this product may cause lethargy or vomiting in cats. The same is true of ANY flea product or shampoo, be it chemical or natural.