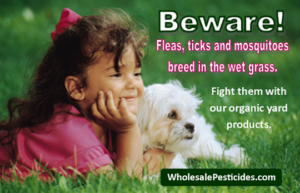 Our 100% organic products are safe for people, pets, flowers and vegetable gardens!
The Amazing History Of Cedar Oil
The power of cedar oil has been well documented throughout the ages. As a destroyer of bacteria and parasites that break down flesh, it was a prized substance used by ancient Egyptians in the mummification process. Early American settlers blanketed their cabins with cedar needles to repel insects, rodents and snakes. Even today, cedar oil is a very popular organic pesticide for yards and vegetable gardens. Dog houses and cattle fences are still built with cedar wood, which naturally resists decay and pest infestation for 50 years or more.

---
Total Yard Solutions for Fleas, Ticks, Mosquitoes and Garden Pests!
---
The Truth About Chemical Pesticides!
Your Safety is Important to Us!

Our pesticides are 100% organic and approved by NOP and other certification agencies. Our product line has earned the USDA Certified Biobased Product Label for its PCO Choice. As with any pesticide, chemical or natural, our topical formulas should not be ingested by humans or animals. Direct eye contact should be avoided. A mask should be worn when using ANY type of fogging solution for pest control purposes, including organic fog solutions. Prior to fogging, humans and animals should be removed from the home, pilot lights should be turned off and smoke alarms should be disabled. Occupants may return in 4 to 5 hours. Do not spray cedar oil (or any other type of pesticide) into flames or electrical outlets. Should our customers, affiliates or retailers use our products or advise others to use our products without reading instructions, Cedar Oil Solutions will not be held responsible for medical consequences or property damage. Cats treated with cedar oil for fleas should wear Elizabethan cones to prevent them from licking and grooming their fur during treatment. E-cones are widely available at pet stores to prevent cats from licking wounds and surgical incisions. In rare cases, ingestion of this product may cause lethargy or vomiting in cats. The same is true of ANY flea product or shampoo, be it chemical or natural.